Recently, Breakthrough Co-Founder Chad Madden and Customer Success Manager Daniel Mina hosted a webinar on the biggest marketing mistakes made in private practice physical therapy and chiropractic clinics. And how to get more patients by fixing a leaky funnel. 
The majority of practice owners — although they often don't know it — are losing money spent on marketing. Usually, the culprit is not the marketing tactics themselves. The mistake is in not setting up and maintaining an ineffective follow-up process on marketing leads. This mistake creates a leaky funnel. 
What is a Leaky Funnel?
A leaky funnel is the secret killer of new patient opportunities. In a perfect world, when you get a new patient inquiry (whether through online advertising, referral, your website, etc), someone follows up with that lead by phone within several minutes of the patient inquiry coming through. The person handling this could be your front desk or office manager. If they're adhering to best practices, they have a good conversation with the individual and follow up as many times as necessary (up to seven times) until that lead comes in for an initial patient evaluation. It's then your clinician's job to sign them up for a plan of care.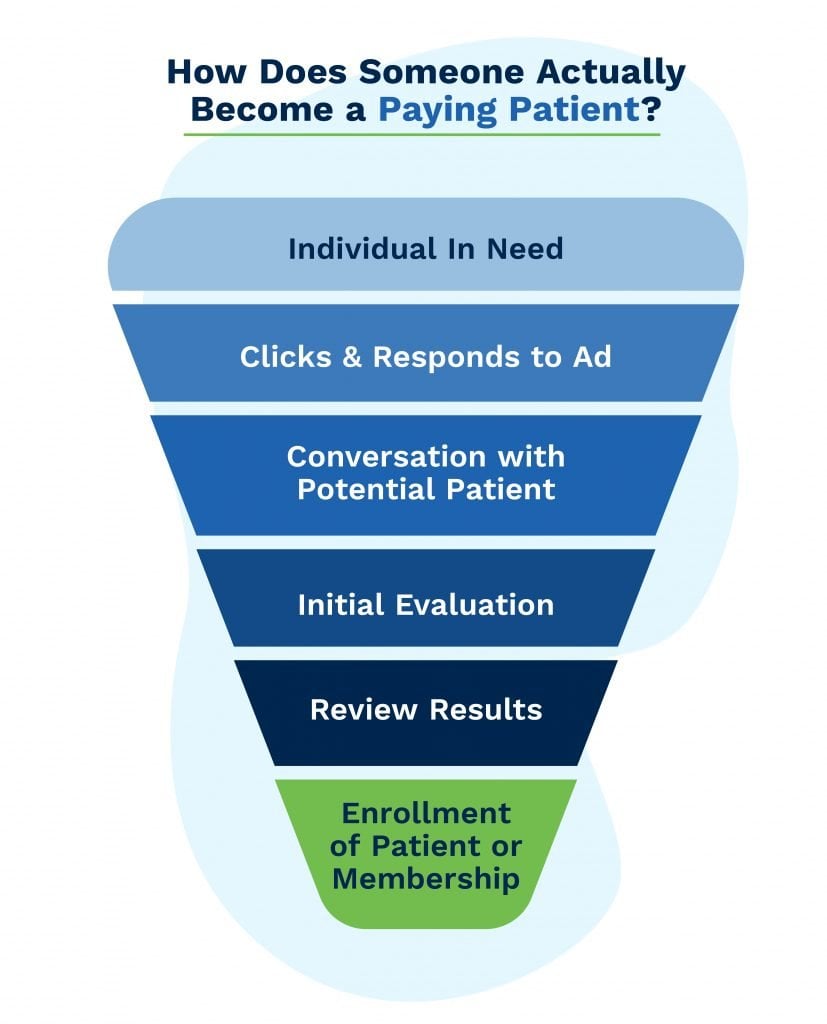 But what happens when this process is not followed closely? You start to get leads falling through the cracks — your funnel becomes leaky. While a lot of practice owners *think* this process is working perfectly for them, they lack the visibility to know that something is wrong. They end up missing out on a lot of patient opportunities. For most, something is going wrong at some step of that process and this creates a leaky funnel. We frequently see practices that don't realize they have a problem!
The fact is, most practices generate  leads that never get followed up on. Some leads get followed up with too late, and some aren't followed up with enough times. Ultimately, an ineffective follow-up process produces numerous drop-offs amongst would-be patients. 
What's the Impact of a Leaky Funnel?
By now, you probably get the message: A leaky funnel is incredibly common and most practice owners don't know it's a problem. You could be losing out on dozens of patients each month and not even realize it. 
If you have a leaky funnel, you're wasting money and getting a lower return on investment (ROI) on your marketing spend. Plus, you hurt your own brand reputation by not following patient inquiries all the way through to a plan of care. Those leads may go elsewhere to your competitors. Worse yet, those would-be patients of yours never get treated and their problem gets worse until they need surgery, injections, or pharmaceuticals. For the sake of your practice and the community you serve, it's important to be able to identify and fix a leaky funnel. 
How Do I Know If I Have a Leaky Funnel? 
As a practice owner, it may not be obvious that you have a leaky funnel. It's unlikely you get into the weeds around tracking leads and their follow-up. Most practice owners have poor visibility into metrics around lead follow-up. They're usually not involved in lead follow-up on a day-to-basis. And if your team is working out of spreadsheets, it's near impossible to pull out  learnings from the data. 
There are warning signs you can watch for to help identify a leaky funnel. Here are the warning signs to watch for, and helpful tips for fixing your leaks:
If the front desk or marketer seems busy and has a very hard time keeping up, then

make sure you have a clear process for following up on leads. 

Alternatively, it may seem like things are in control, but

if there's no accountability for those who are following up on leads – or if you don't measure this – then follow-up can often be delayed or skipped completely.
Best practices are for your marketer to follow up on a lead within a few minutes of lead creation by giving them a call.

Many leads that could be patients

never convert if you only call leads a couple of times before giving up.

Inefficient processes like these result in a lower ROI on your marketing spend.
How to Get More Patients: Fix Your Funnel! 
Most practices miss out on potential new patients by thinking their funnel ends when an individual in need responds to an ad. But conversing with potential patients, giving them workshops or assessments, and reviewing the results are also crucial steps toward enrolling patients or members.
Poor calling practices reduce the number of appointments scheduled from a given number of leads. Poor follow-up processes reduce the share of scheduled appointments that are kept. Some owners think email blasts are enough, but email is for driving patient interactions – not for sending people to the homepage of your website for the first time. 
What Your Staff Needs to Know
Follow-up conversations turn interested individuals into actual leads.

Do confirmation calls within five minutes of signup. If at first you don't succeed at connecting, keep trying! Seven attempts is the power number, so aim for that. After 7 failed tries, connection becomes very unlikely. But hit 'em hard in the first few days following their signup, and be sure to use multiple channels – like text, phone, email – for best results.

Never say "If…" on a follow-up call.

From hundreds of hours of call tracking data, we've identified a key trend that does NOT perform well. Ending on "If" statements. What we're talking about are statements like: "If you'd like to schedule an appointment, just let me know." At the point that "If" statements are used, a lead has typically already inquired about your practice and demonstrated interest. So instead of saying "If you'd like to come in," you can assume they want to schedule an appointment. 

Have Patient-Centric Follow-up Calls.

What should you train your staff to say instead of 'If' statements? After a short introduction, ask your potential patients questions about them and their pain. What's their health concern? How long has it been going on? What have they tried for treatment? Patient-centric conversations turn leads into patients; talking about how great your practice is doesn't. After plenty of discovery questions, your caller can ask, "Do you want to get that taken care of?" "When's a good time to start the healing process? We have time on Monday at 11am or after 3pm, what time works for you?" 

Use Initial Evaluations and Free Screenings as a Conversion Mechanism.

The goal: to raise awareness and increase patient respect for the treatment plan. A killer exam begins by asking what their pain is stopping them from doing. Next, consider their history, including whether they've had PT before. Then test, treat, and re-test their issue. Help them understand the cause of the problem in lay language. Afterwards, formulate a treatment plan agreement, along with a financial plan and schedule for their treatment. Track who among your staff is best at converting new patients at this stage, so you can work to get your whole team to that level.
How Breakthrough Can Help 
Breakthrough offers a complete, all-in-one Patient Demand Platform that empowers practice owners and their staff to:
 Attract patient leads through proven, top-performing marketing campaigns 

Track leads through the funnel and easily identify stages of the funnel that need improvement. Plus, access hundreds of hours of training content to help your staff more effectively turn leads into patients.

Gain visibility through measurement and intuitive dashboards.  Do more of what's working and less of what's not. 
A patient demand platform is the simple, repeatable way to consistently grow your practice by attracting leads, converting patients, and measuring success.
How would you like to have a team of experts audit and fix your funnel to fill up your practice?  
&nbsp